Dyson HD07 Supersonic Hair Dryer, All Fuchsia
Dyson hairdryer is the finishing tool of choice for clean and straight designs. It makes your hair look smooth and glossy by hiding flyaways beneath longer hair.
The re-engineered Style concentrator's broader, slimmer design generates a high-velocity blade of air that's ideal for styling. So you may work on one part at a time, without bothering others.
The Diffuser was redesigned to circulate air more evenly around your curls to minimise frizz and shape curls and waves. Now style your hair with better control because the prongs are longer.
Engineered for curly or coarse hair, the new Wide-tooth Comb Attachment is equipped with strong teeth that may lengthen hair as it dries or adds volume and form.
Twist out
Create textured twists with curly hair.

Defined curls and waves
Create defined curls, and add volume and shine.

Everyday blow dry
Add natural volume and create flicks.

Bantu knots
Learn how to create sharp knots with curly hair.

Smooth blowout
See how to smooth and add volume to long, straight hair.

Korean volumised style
Learn how to create a straight style with natural volume for men.

Textured with volume
See how to create a textured style for men.

Flyaway attachment
Learn how to use the Flyaway attachment to finish a style.

Flyaway attachment
The ideal finishing tool for sleek, straight styles. Hides flyaways under longer hair to give you a smooth, shiny finish.1 With just air.

Styling concentrator
The wider, thinner design3 of the re-engineered Styling concentrator creates a high-velocity blade of air that's perfect for styling. And because the air is focused, you can style one section at a time – without disturbing the rest.

Diffuser
Re-engineered to disperse air more evenly around your curls, the Diffuser simulates natural drying, helping to reduce frizz and define curls and waves. Longer prongs allow you to style more hair with greater control – and reach deeper into the hair.

Gentle air attachment
Engineered to be kinder to fine hair and sensitive scalps, the new Gentle air attachment diffuses the air, creating a gentle, cooler airflow - while still drying hair fast.

Wide-tooth comb
Engineered for curly and textured hair, the new Wide-tooth comb attachment has robust teeth to help lengthen hair as it dries, or create volume and shape.

3 precise speed settings
High – for fast drying and styling
Medium – for regular drying
Low – for diffusing

4 precise heat settings
100°C fast drying and styling
80°C regular drying
60°C cooler drying and diffusing
28°C constant cold

Cold shot
28°C cold shot, to set your hair after styling.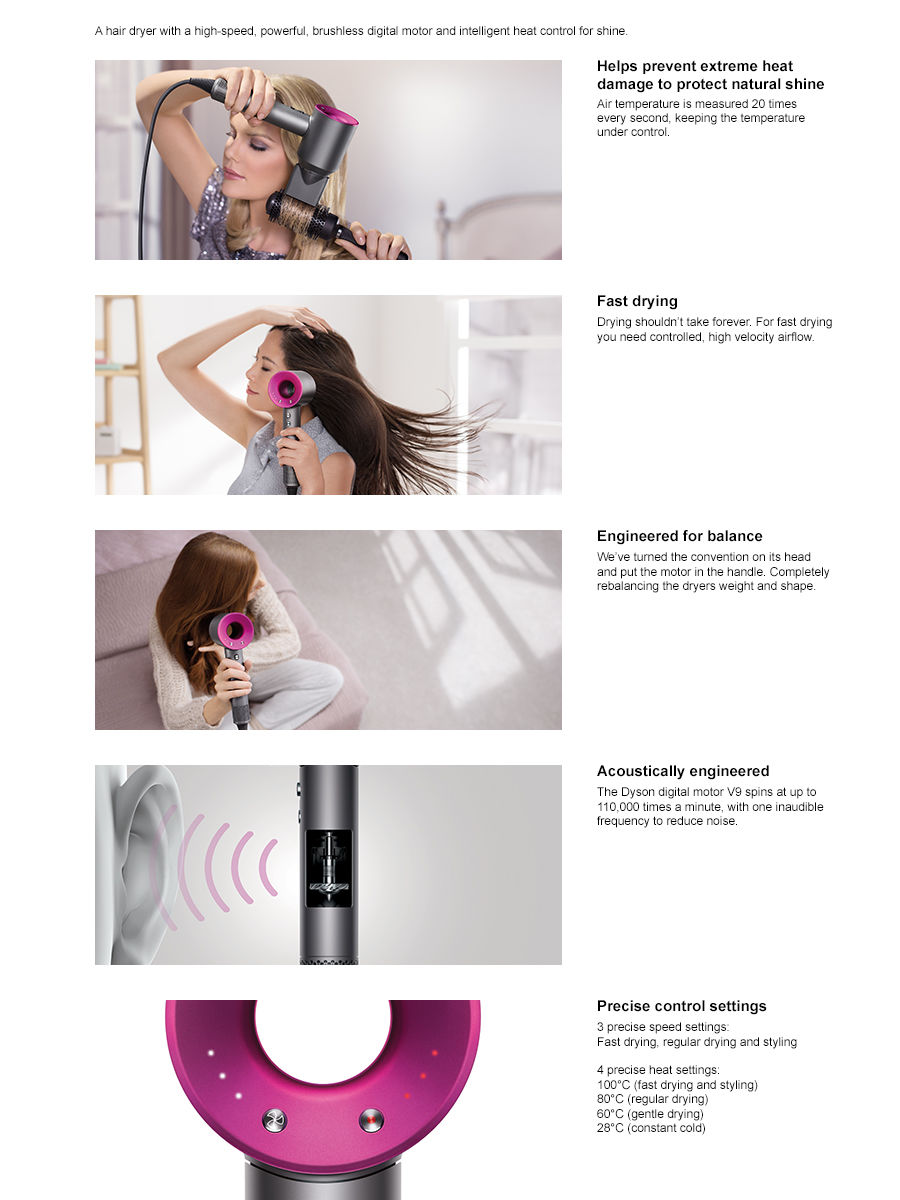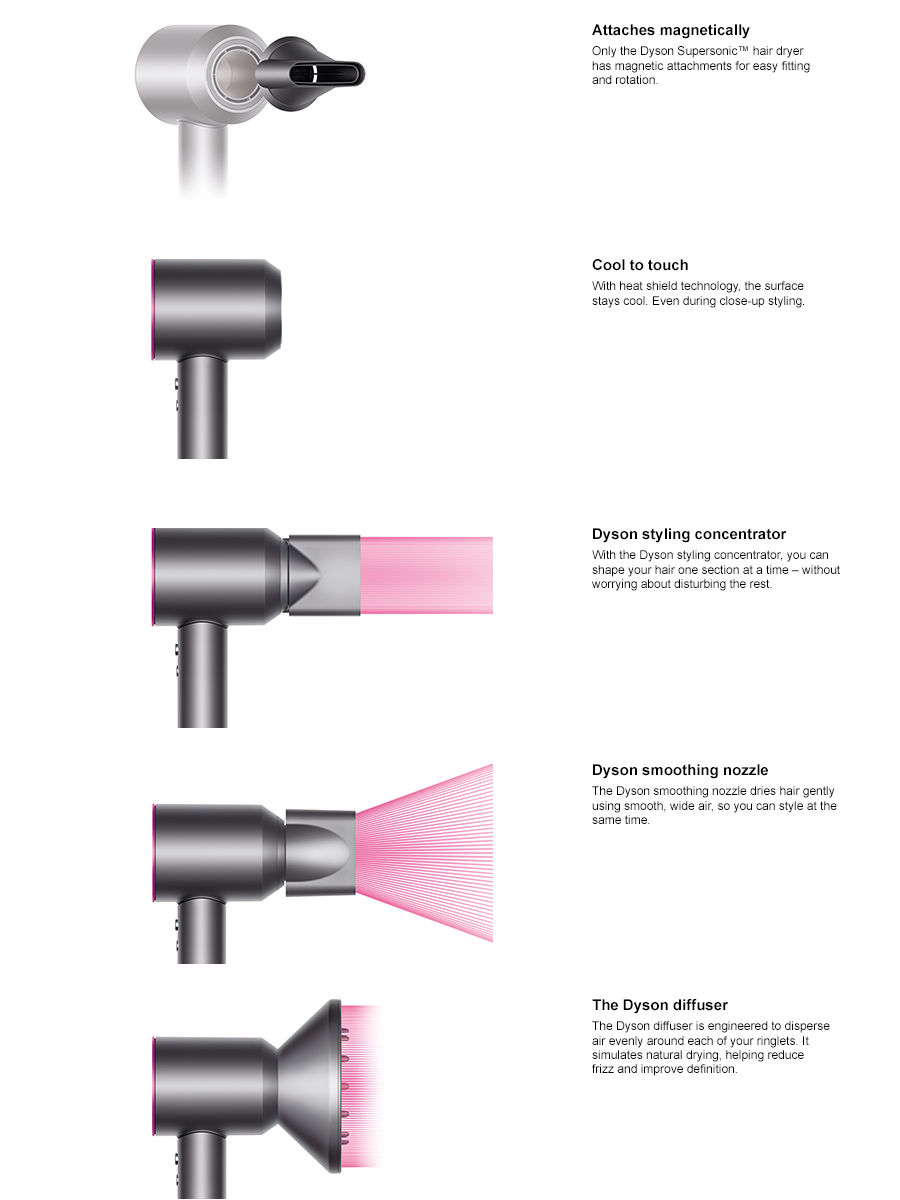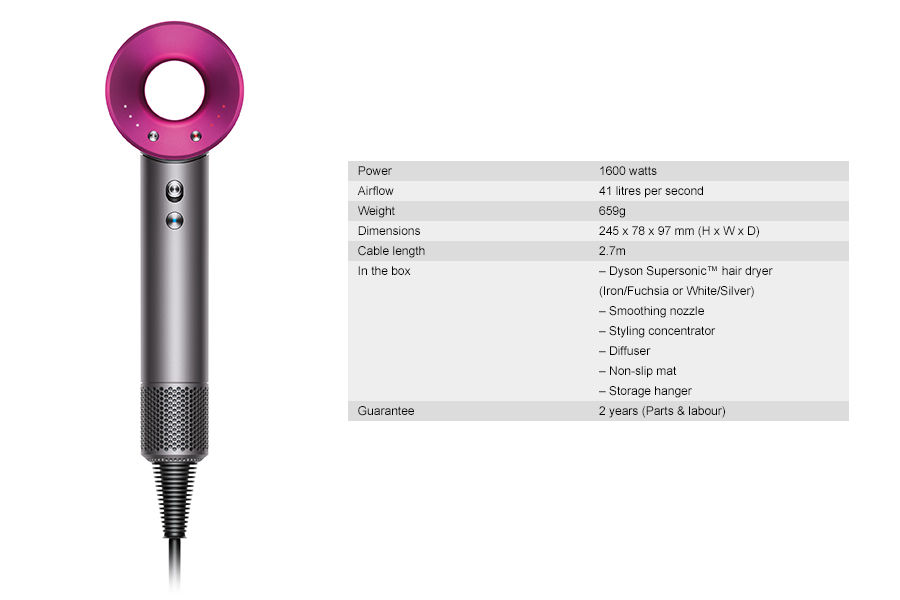 Looking for a hairdryer that gives a natural finish to your untamed hair? The Dyson HDO03 Supersonic Hair Dryer with its multiple magnetic attachments is your go-to.

Intelligent control
With precise speed and heat settings and air multiplier technology, it provides faster drying and styling options with minimal heat damage.

Re-engineered styling tool
The styling concentrator helps cover individual hair sections with its thinner design and high-velocity blade, making it the perfect styling tool. The smoothing nozzle ensures that the hair is dried using controlled hair flow.

Re-engineered diffuser for balance
This new and improved diffuser helps get rid of the frizz and redefines your curls.

Acoustically engineered digital motor
The high-velocity flow of the digital motor V9 allows it to spin inaudibly 110000 times a minute, facilitating faster drying.