Boost Wi-Fi coverage with Linksys MAX-STREAM AC1900+ MU-MIMO Wi-Fi Range Extender (RE7000). Thanks to Next-Gen AC Wi-Fi, Multi User-MIMO technology, your household can stream, game online, surf, and more--anywhere in the home and outside. Compatible with all Wi-Fi routers, it has easy setup with exclusive Spot Finder Technology to quickly find the right location for your RE7000.
It also has a compact design that only takes up a single mains socket, leaving you access to neighbouring sockets.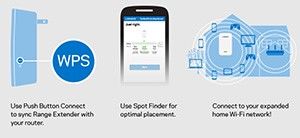 Spot Finder technology helps you position the RE7000 for optimal performance.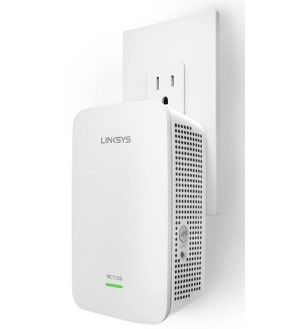 Boost your Wi-Fi signal.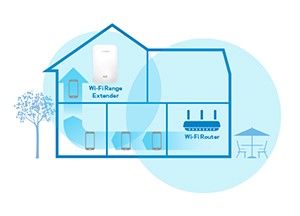 Provides Seamless Roaming when paired with a Linksys MAX-STREAM router.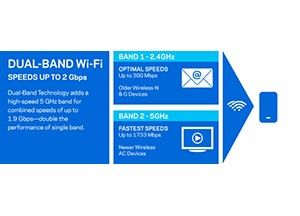 Dual-Band Wi-Fi delivers combined speeds of up to 1.9 Gbps. View larger.
Eliminates Dead Zones and Increases Wi-Fi Range
Stream 4K and HD movies, play online games, download music, and use all your favorite apps without interruption with this Wi-Fi extender. The RE7000 boosts Wi-Fi in hard-to-reach areas of your home, such as your garden or garage, and increases the range of existing Wi-Fi signal.
Quick, Easy Setup with Exclusive Spot Finder Technology
Setting up your RE7000 is easy. Simply use the Push Button Connect feature on the RE7000 range extender to automatically sync it to your router. Thanks to Spot Finder technology, you can set up your range extender in the right location for optimal performance using your smartphone, laptop, or tablet.
Works with All Wi-Fi Routers
This MU-MIMO range extender is compatible with all Wi-Fi routers, including those from Internet service providers. Plus, you needn't adjust your router's settings when installing this range extender.


Next-Generation MU-MIMO Technology for Multiple Devices
With next-generation MU-MIMO (Multi-User, Multiple-Input, Multiple-Output) technology, your whole household can simultaneously surf the Internet, stream HD movies, play online games, and more--without experiencing any buffering or lag. MU-MIMO technology ensures you'll enjoy a faster and more efficient connection to every device.
Move around Your Home Freely with Seamless Roaming
Enjoy smooth Wi-Fi connections with Seamless Roaming when you link your Linksys AC1900+ Wi-Fi Range Extender to a Linksys MAX-STREAM router (sold separately). You'll no longer have to manually connect to your range extender or router when you go from one side of the house to the other.
Seamless Roaming enables your enabled wireless device to automatically switch to the strongest Wi-Fi signal as you move between the different areas of your home*. This allows you to move freely while video chatting or streaming media on your tablet or smartphone without experiencing buffering or dropped calls.
Even if you don't have an enabled wireless device, Seamless Roaming ensures that your MAX-STREAM router and range extender work together efficiently to deliver a strong whole-home Wi-Fi signal.
Faster Speeds and Reliable Connection from Dual Wi-Fi Bands
The RE7000 offers dual Wi-Fi bands of 2.4 GHz and 5 GHz for combined speeds of up to 1.9 Gbps--double the performance of single band. You can manually assign newer Wireless-AC devices to the 5 GHz band, and assign older devices to the 2.4 GHz band. Using Crossband technology, the extender allows information to be simultaneously received on one band and transmitted on the other for a stronger signal.
Beamforming Technology Focuses Wi-Fi Signal to Device
Play games, listen to music, check emails, shop, stream movies, and more--without having to worry about signal drop-off. This Wi-Fi signal booster uses Beamforming technology to direct Wi-Fi signals to each device for increased signal strength and coverage.
Fast Wired Connection with Gigabit Ethernet Port
You can also connect wired devices such as gaming consoles, Blu-ray players, Smart TVs, or streaming players to your Wi-Fi network using the range extender's Gigabit port to enjoy up to 10x the data transfer speeds of Fast Ethernet.
Expand Your Network with Access Point Mode
You can configure the range extender to act as an AC Wi-Fi access point to extend your home network and reduce dead spots by adding Wi-Fi capabilities to your wired network. Simply connect the access point to your router or other wired internet adapter using a Gigabit Ethernet cable, and place it where you need a wireless boost.
Package Contents
Linksys MAX-STREAM AC1900+ MU-MIMO Wi-Fi Range Extender (RE7000), quick install guide and regulatory information.
*Seamless Roaming is designed for devices that support the 802.11k standard including, but not limited to, iPhone (4s and later), iPad Pro, iPad Air and later, iPad mini and later, iPad (3rd generation and later), iPod touch (5th generation and later), Samsung S4 (Android 4.2.2 /4.4.2), Samsung S5 (Android 4.4.2), and Samsung S6 (Android 5.0.2). For more information on supported Windows and other devices, please check with your device manufacturer.
Linksys RE7000 Max-Stream AC1900+ Wi-Fi Range Extender RE7000-ME